Services

For Ten years, Rock Solid Surfacing provided concrete restoration and coatings for a variety of flooring types in Colorado ( Co ). For residential customers, we provide a complete remodel of the garage, including coatings, cabinets, and organization systems.

In 2006, we switched from using epoxy to polyaspartic coatings due to the rapid cure process and enhanced function and durability. In the last year, we have started using a technologically advanced polyurea enhanced with polyaspartic esters. This product manufactured by Espartic is an earth-friendly "green" coating with unsurpassed benefits for residential and commercial property owners.

Benefits include the following:

Zero Volatile Organic Compounds
No Odor
Resists bacteria growth
Chemical resistant
Hot Tire Resistant
Forklift Resistant
Nonslip
Rapid Cure
Fast Return To Service
Decorative
Waterproof
Long-Term Warranties

Services and Property Types

Concrete Restoration – We provide diamond grinding, crack repair, and also fix holes in concrete with Espartic polyurea. Our products soak into concrete, restoring floors that otherwise may have needed to be repoured. We can save property owners from expensive remediation.
Concrete Polishing – Our diamond-grinding and dustless vacuum system enables us to polish concrete.
Coatings Removal – Many inferior floor coatings fail for numerous reasons: inferior quality, inexperienced applicators, moisture vapor, and road salts. When floors fail, we grind the old coating off the floor and recoat with Espartic polyaspartic / polyurea.
Concrete Staining – Concrete floors can be stained and dyed, creating unlimited decorative options and designs. Stained concrete can be coated with clear Espartic coatings for tremendous clarity and easy maintenance.

Garage Floors and Cabinet Design / Build – We can provide our customers with steel and wood cabinets designed on a CAD architectural program. The result is a flawless custom installation. Floors are ground smooth and flat. Cracks are repaired, and damaged concrete is restored; cove moldings can be installed at the base of interior walls and the coating applied.
Industrial, Warehouse, and Self-Storage Floors – Concrete is restored and then coated with a durable, bright decorative application that withstands high traffic, forklift tires, and general abuse. In most cases, the concrete is damaged before our coatings are applied.
Medical Floors and Hospital Floors – Earth-friendly with low odor and zero Volatile Organic compounds make our Espartic Polyaspartic Polyurea ideal for medical floors and hospital floors. The unique chemistry of the Espartic coatings minimizes bacteria growth, leading to improved air quality, which creates a healthier environment.
Dog Kennels and Animal Floors – High durability, minimal bacteria growth, and low maintenance create healthy environments. Floors can be washed daily and cleaned quickly with just a neoprene squeegee and stiff bristle broom.
Restaurant and Commercial Kitchen Flooring – Stains from grease, citrus, soda, coffee, and alcohol can be easily cleaned each day. Decorative options are available to customize the interior design with the look of granite, terrazzo, or concrete.
Auto Showrooms and Marine Showroom Floors – Coatings have a clarity that is unsurpassed. Minimal routine cleaning ensures that "brand-new" look for years. Coatings are bright and reflective for showcasing cars, boats, and other displays.
Retail Store Floors – Your floor design can be customized with a choice of colors, decorative chips, and stains to capture your image. Easy maintenance saves money and keeps floors looking great for years.
Custom Floor Graphics – Custom, high-resolution graphics can be designed in any size or shape. Graphics are installed between coats, protecting them indefinitely.
Floor Services
Before and After Slide Show 1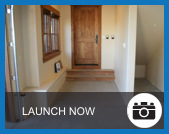 See photos from real Rock Solid Surfacing installations. We have hundreds of satisfied clients.
Before and After Slide Show 2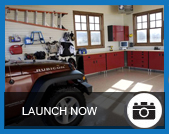 See photos from real Rock Solid Surfacing installations. We have hundreds of satisfied clients.
Features and Benefits of Polyurea / Polyaspartic Coatings