Concrete Floor Coating Co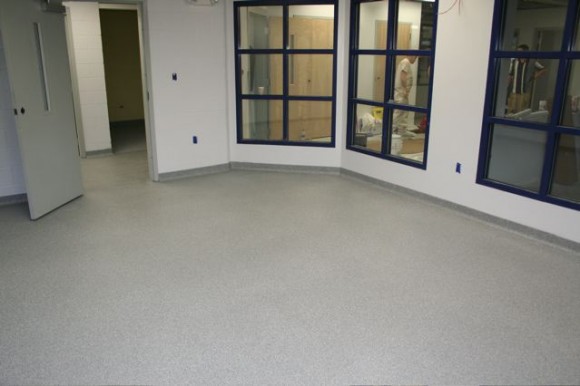 Every concrete floor coating we apply in Colorado ( Co ) starts with extensive surface preparation.  The goal is to grind the surface removing the highs and lows in concrete. This is a critical first step. If the high spots are not removed, the coating thickness will be inconsistent. It will be thick in the low spots, thin in the high spots. The high spots will wear prematurely causing an expensive restoration.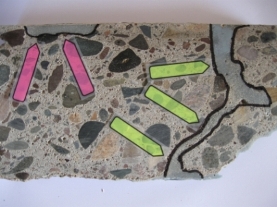 The next step is to fill the cracks and repair the damaged areas with the right product and system . Notice the cracked concrete sample on the left. Cracks go through the concrete, not just on the surface. Our crack filler is a polyurea that flows through the entire crack, top to bottom. It absorbs into the walls of the crack and cures as well at the bottom as the top. It is 100% compatible with our polyurea top coat. It is flexible and designed to bond with our coating.
Once the floor is prepared we apply a first coat to the entire floor. The first coat absorbs into the surface. It cures in the concrete, not just on the concrete.
The second coat is a high build application. The result is an even flat surface with few if any blemishes that bleed through. We took care of this potential problem in the surface prep process. You won't see any bird baths in our floors.
The most popular color is saddle tan with 1/16th inch chips that give the floor an appearance of granite. We blend in non slip particles into the coatings, not merely broadcast into the surface. Non slip particles are non porous and do not absorb dirt. They are also a specific size that will not float to bottom of coating during application, nor pop through the top where they could easily become dislodged from wear.
In the world of concrete coatings this is the best system available. It's cost effective and durable for the long term. Our business is based in Vail Valley and Denver Colorado ( Co ). We also service clients nationwide.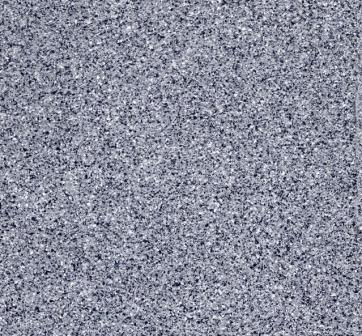 What's New
Latest Blog Posts