Archive for the 'Blog' Category
Sunday, December 19th, 2010
Garage Floor Epoxy Paint Repair
Many of our clients throughout Colorado have had their concrete resurfaced with coatings available at the big box home improvement stores. The result looks great for the first day or two followed by disappointing deterioration.
Chips and Peeling
The first thing that starts to happen are small chips that come off the floor. Then if you drive your car on the floor you may see the coatings peel right off under your tires. The floor starts getting dirty and before you know it, the floor looks worse than before and you're out some hard earned money. In some cases the coating will peel off the surface in sheets.
Why Coatings Fail
There are a few things happening that cause a floor coating to fail.
Concrete Moisture – Your floor, though it may seem hard as rock, is still curing. Concrete cures slowly over time. It takes 100 years before curing stops. Your floor is in perpetual motion. It also is full of tiny air holes. When your concrete was first pored, the moisture had to work it's way out through the surface. The moisture leaves a trail of air holes. Imagine hundreds of tiny straws in the concrete. Moisture pushes upwards and salts along with it. Only premium polyureas and epoxies can withstand this problem.
Etching Concrete – Most hardware quality epoxies come with an acid etch solution to profile the surface. In theory this is correct. Floors need to be profiled to add surface area for the coating to stick to. The problem is that the etching solutions are weak and diluted to begin with and not very effective. But the big issue is that you are soaking the floor with water, the enemy off all coatings. It will take weeks for the floor to dry. However you likely applied the coating the next day trapping moisture in the floor. To compound the problem, when you washed the acid etch off the cement surface some of it got trapped in the air holes. Eventually moisture pressure pushes the acid in the air holes to the surface which starts to eat the epoxy, hence chipping and peeling.
Inferior Quality – Face it. You get what you pay for. The products at the home improvement stores are inexpensive, low performing coatings. You can improve their performance by grinding or shotblasting the concrete, but stay away from acid etching. Even a properly prepped floor is not the solution. Floors take a beating and concrete is a difficult surface. The only solution is a high performance system if you want a floor that performs over the long term.
The Solution
We provide a high quality coatings system. Our system includes grinding the top level of the cement floor. This step removes the high spots making the floor flat. It also opens up cracks and airholes.
We fill the cracks with a polyurea that flows to the bottom of the cracks and absorbs into the walls on the crack. It cures below grade and is activated by moisture. Most crack fillers never fully cure and stay mushy in the crack. They also only fill the top inch of the crack. Moisture pressure pushes these inferior products out of the way causing coating failure.
We also fill any damaged holes in the floor.
The next step is application of our polyurea prime coat. This is a thin application that absorbs into the concrete. The prime coat is perfectly compatible with our polyurea crack filler. They bond together. We see so many floors where the crack filler is only a band aid and does not bond to the epoxy top coat.
Our next coat is a high build performance coating of our polyurea. No need to worry about tire marks, dripping grease or de-icing salts. The floor is easy to clean and looks excellent for years.
If you have experienced garage floor epoxy paint failure and need a repair solution give us a call. We're based in Colorado in Denver and in the Rockies. We have associates nationwide who can provide you with a remediation solution in your local area.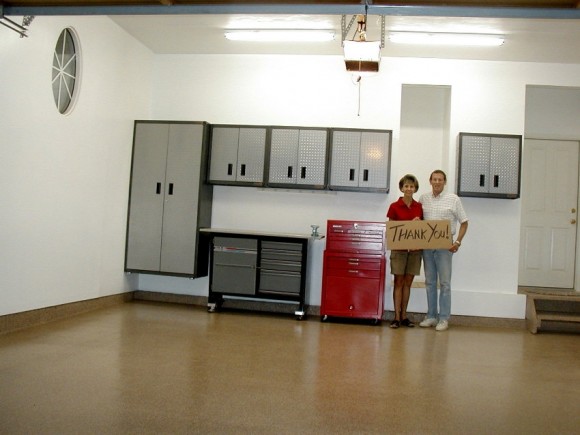 Thursday, November 11th, 2010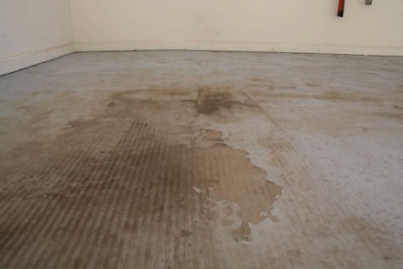 Many of the projects we repair are failed garage floor epoxy coatings especially in the Mountains of Colorado.  There are two main reasons:
Improper Surface Preparation
Low quality epoxies
Inexperienced applicators
There is a lot of moisture pressure that pushes upwards through concrete in the Rockies and elsewhere throughout the state. The upwards pressure pushes salts and moisture to the surface causing the coatings to fail. Ten years ago when we first started our coatings business we found this out the hard way. Over time we worked on perfecting our surface prep systems to create a floor that coatings would adhere to for the long term.
Today, we grind the floor surface creating a flat surface, free of any bond breakers while opening the pores of the concrete. We don't want a floor that coatings will merely adhere to. We want a floor that coatings will absorb into. Few floor coatings will absorb into the concrete, rather they stick to the surface no matter how good the surface prep system. We have developed and manufacture our own coatings called polyureas that have a "wetting" capability. They absorb into the concrete and cure becoming part of the floor.
The first coat is a prime coat followed by a high build top coat. We frequently add 1/16th inch decorative chips and non slip aggregate giving the floor a granite look.
This prevents the possibility of coating failure. If you have a floor coating that is peeling off your floor or is chipped and cracked give us a call at 800-328-1443.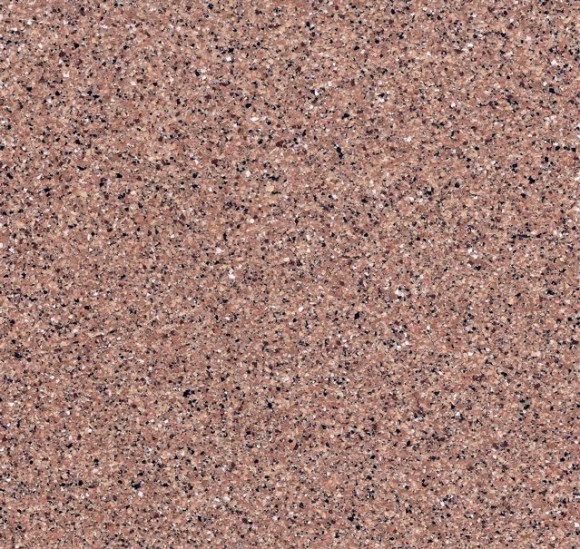 Monday, October 18th, 2010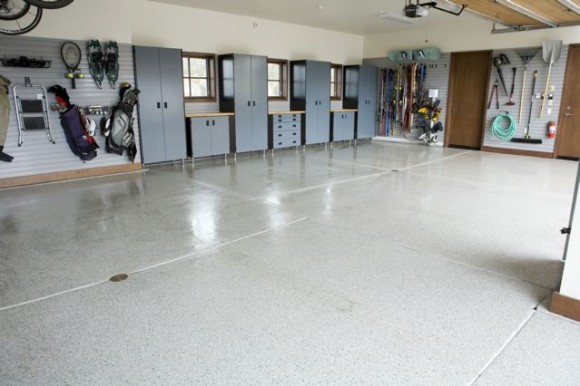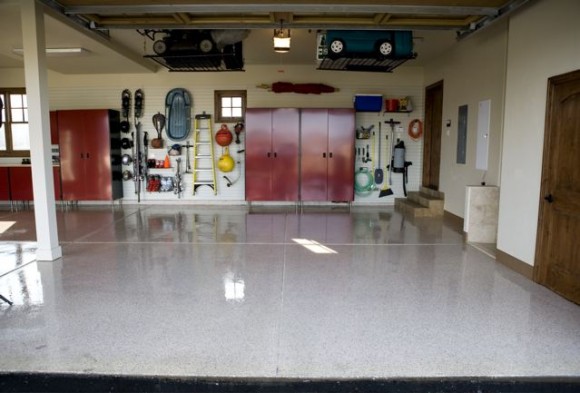 Here are photos of garage cabinets we installed at a few Colorado residences. We install wood and steel customized for your space requirements and storage needs.
There is a lot more to getting it right than you might think. First we need to measure your space, doors, steps, outlets and ceiling heights. Then we need to review what you plan on storing. Everything needs to be measured and accounted for.
Once everything has been measured we design a few options on a cad program. After you have made your selection we set up a date to have all the components delivered aligned with dates for coating your concrete floors. Ideally we want the cabinets and wall storage systems to arrive the day after the floor has been installed and cured.
Call us for appointment to measure and design your garage. We service Rocky Mountain properties from out location in Vail valley. From our Denver Colorado location we serve the entire state.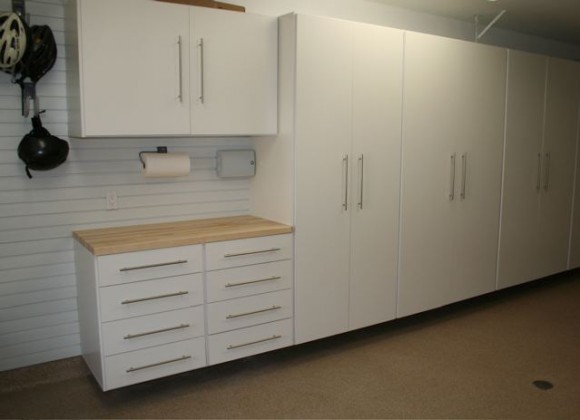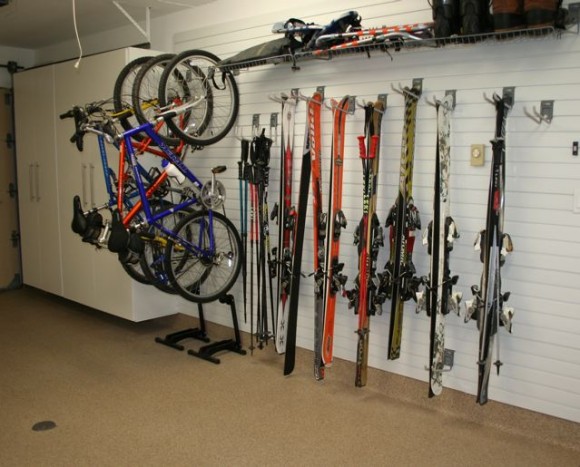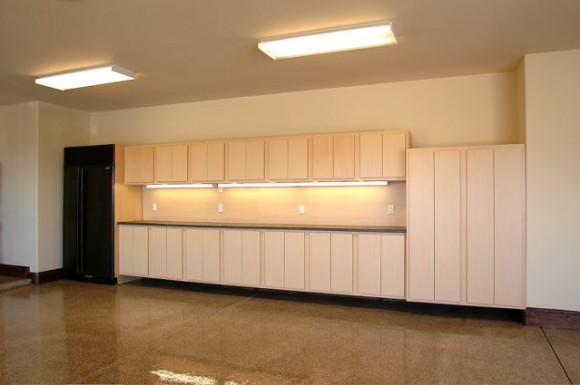 Friday, October 8th, 2010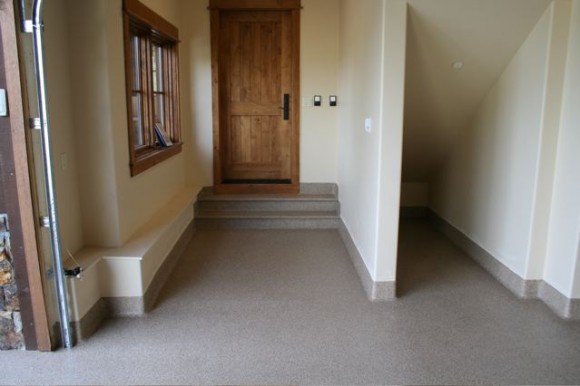 Your concrete garage floor is porous and soaks up water. The water ending on your floor is not very pure. It drips on the surface from your car complete with oils, road salts, fertilizers and all kinds of unnatural substances that damage your floor and walls.
We provide a solution like in the photos shown here. Notice along the interior edges how we applied a coating that comes up about 5 inches along the walls. This process creates a seamless pan or basin in your garage. The result is a floor that is completely waterproof and decorative.
The process starts out by grinding the surface opening the pores in your concrete while removing the highs and lows in the floor. This prevents birdbaths in the final coat. Our goal is to get the floor as flat as possible.
The next step is to repair the cracks and damaged areas in the floor followed by installation of cove molding and coatings. We are manufacturers of  one of the highest quality polyure coatings available today providing a lot of floor for the money which no one can beat.
Floors are decorative, non slip and easy to clean while creating a waterproof garage saving from expensive remediation later.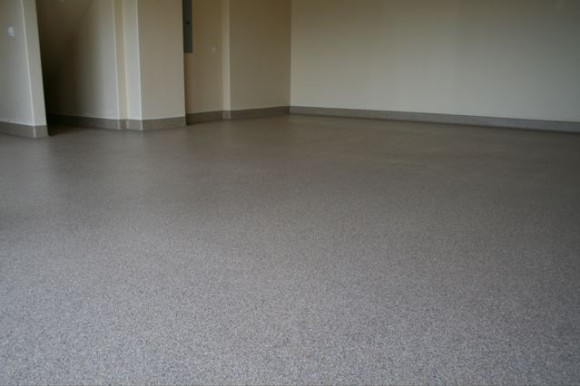 Monday, October 4th, 2010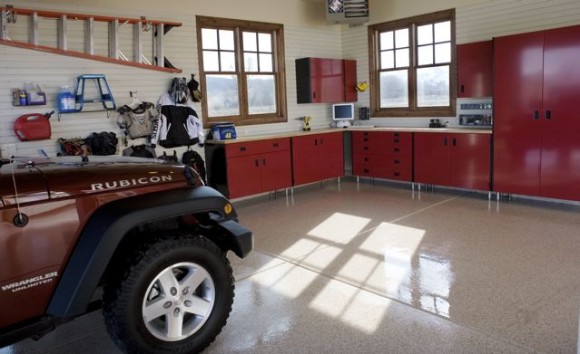 We provide steel and wood custom cabinets, shelving and organization systems for residential garages throughout Colorado, Co.
The process starts with extensive measuring of your existing space, door openings, outlets, drains, corners and garage doors. The next step is to inventory and measure what is going to be stored and where. We have overhead systems, wall racks for tools and sporting goods, work stations and cabinets in unlimited combinations and sizes.
A few days prior to delivery of cabinets we empty your garage and store your gear outside in a safe, weather protected mobile storage unit. Then we commence remediation of your garage floor followed by your choice of colored, non slip polyurea concrete coatings. Coating application takes two days depending on size. If weather cooperates the coating will cure quickly followed by installation of cabinets.
The entire garage floor and cabinet installation process typically takes 3-4 days depending on the extent of the remodel.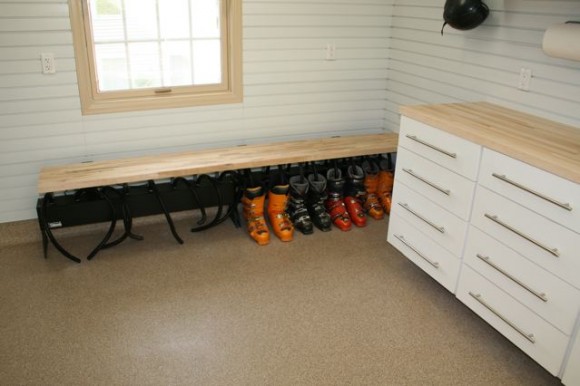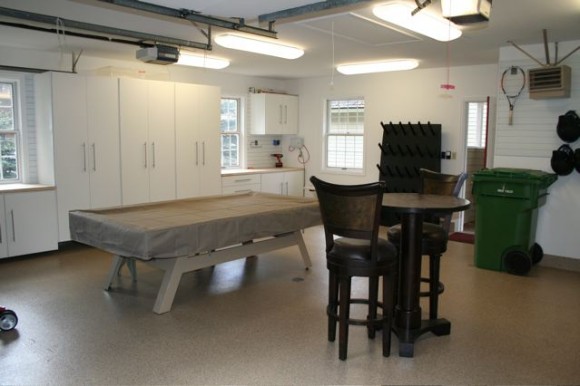 Friday, September 17th, 2010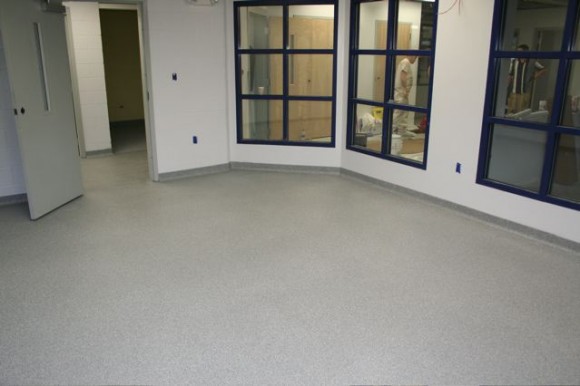 Every concrete floor coating we apply in Colorado ( Co ) starts with extensive surface preparation.  The goal is to grind the surface removing the highs and lows in concrete. This is a critical first step. If the high spots are not removed, the coating thickness will be inconsistent. It will be thick in the low spots, thin in the high spots. The high spots will wear prematurely causing an expensive restoration.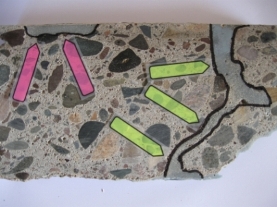 The next step is to fill the cracks and repair the damaged areas with the right product and system . Notice the cracked concrete sample on the left. Cracks go through the concrete, not just on the surface. Our crack filler is a polyurea that flows through the entire crack, top to bottom. It absorbs into the walls of the crack and cures as well at the bottom as the top. It is 100% compatible with our polyurea top coat. It is flexible and designed to bond with our coating.
Once the floor is prepared we apply a first coat to the entire floor. The first coat absorbs into the surface. It cures in the concrete, not just on the concrete.
The second coat is a high build application. The result is an even flat surface with few if any blemishes that bleed through. We took care of this potential problem in the surface prep process. You won't see any bird baths in our floors.
The most popular color is saddle tan with 1/16th inch chips that give the floor an appearance of granite. We blend in non slip particles into the coatings, not merely broadcast into the surface. Non slip particles are non porous and do not absorb dirt. They are also a specific size that will not float to bottom of coating during application, nor pop through the top where they could easily become dislodged from wear.
In the world of concrete coatings this is the best system available. It's cost effective and durable for the long term. Our business is based in Vail Valley and Denver Colorado ( Co ). We also service clients nationwide.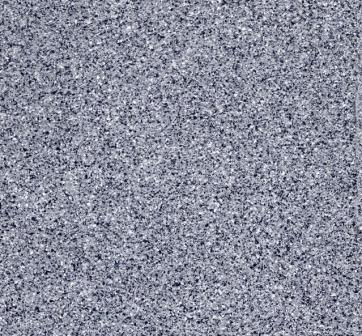 Wednesday, September 15th, 2010
•    Non-Yellowing
•    Easy To Clean
•    Limited to Zero Bacteria Build
•    Waterproof
•    Green , zero VOCs
•    Chemical Resistant
•    Rapid Cure
•    Decorative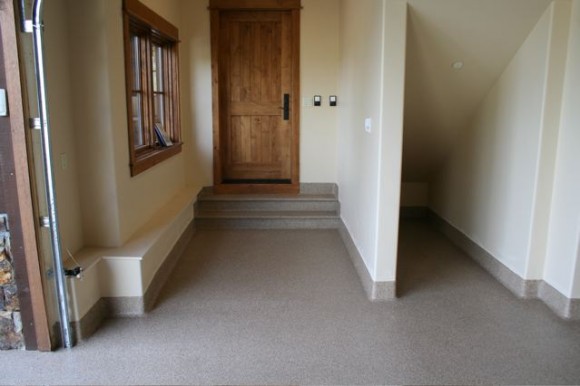 We specialize in applications of polyurea high performance concrete floor coatings throughout the state of Co. We're based in Eagle in Vail Valley and Denver.
Our business is highly specialized. We do one thing and we do it every day. At this point we have logged about 20,000 hours perfecting our trade. One of the things we have found over the years is that by focusing on one thing we have become really good at what we do.
It starts with floor preparation. We have developed a system for grinding the floor to create an almost perfectly flat surface. This process results in a flow coating that is almost flawless and endures for years. It's taken a lot of effort and adjustments to our floor grinding equipment to develop the equipment and operating skill to get the floors where we want them.
The next step is concrete crack repair and patching damaged areas. We have worked out the kinks and developed a repair product that does not shrink and cures even in moist cracks. Our repair filler is perfectly compatible with our floor coatings. This system prevents cracks from bleeding through after we are long gone from a job. It's rare that we get call backs from our customers other than to want a floor in another of their properties.
Our chip system is typically 1/1th inch chip that looks like a granite floor when finished. We also use a non slip additive that perfectly suspends in between coating layers. It's a glass type product that is not porous and will not absorb dirt and discolor.
Finally, by running a highly specialized business, we are able to have a very tight control on our finances and how we manage our day to day operation. In the end, we are able to provide our customers the highest quality product at a competitive price by a company that will be around, tomorrow and 10 years from now if not longer.
In addition to concrete floor coatings in our home state of Colorado ( Co ) we will travel and have affiliates around the country who apply our same strategy.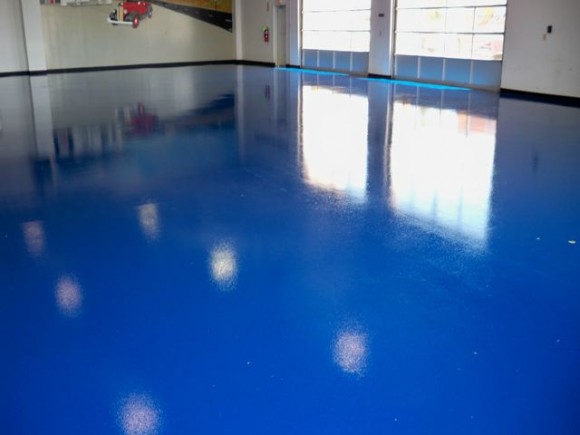 Tuesday, August 31st, 2010
We find more and more home owners throughout Colorado resurfacing their garage floor with high performance coatings rather than the inexpensive paints that peel off the surface. They are also expanding the use of their space with organizational cabinets.
Options for cabinets are varied. We have steel cabinets that are expensive but last forever. Most home owners go for the wood grain cabinets. Wood models look excellent and last indefinitely. They are attached to be walls whereas steel are placed on the floor and can be removed if you ever sell your home.
Our color choices are varied as you can see. We can even inlay graphics between coats that you can drive on without issue. All our floors are non slip with resistance exceeding OSHA guidelines. Call us or visit our contact us page for questions or to arrange an appointment.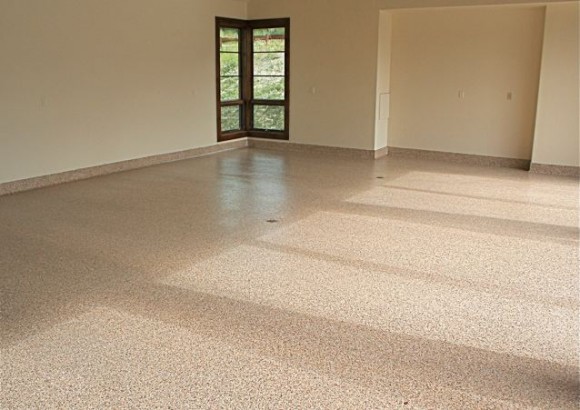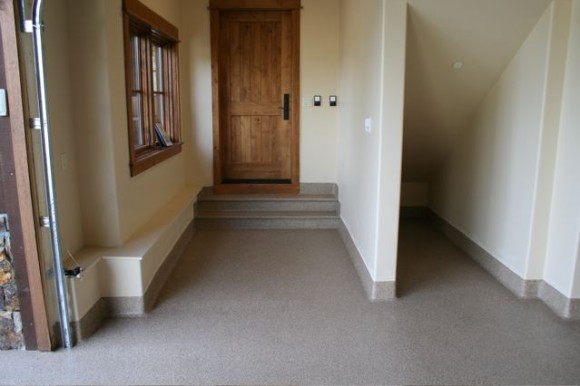 Monday, August 23rd, 2010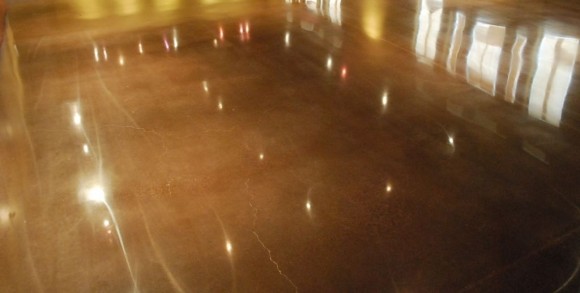 There are a few options if you're considering polished concrete flooring for your Colorado industrial or residential property.
The floor can be ground down to various levels. The top photo here shows a floor that was aggressively ground to expose the aggregate. We can also grind the floor exposing minimal aggregate. Either way the floor can be left the natural concrete color or we can stain the surface like the second photo above.
There are a few options for the final finish. The surface can be highly polished up to 1500 grit or we can provide a matte finish stopping at approximately 400 grit. If you need a surface that is sealed, we can provide a stained surface and seal with clear coats of our polyurea.
We can also customize your flooring with graphics in any shape and size like in the photo below. Give us a call at 1-800-328-1443. We can take a look at your facility and provide you with a few solutions.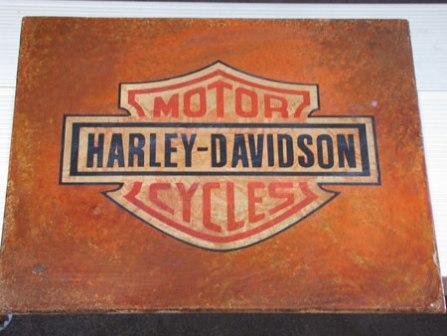 Wednesday, August 11th, 2010
We use a a fine polypropylene mixed in with our polyurea concrete coating to create non slip flooring.  There are a few reasons why.
Non Porous – One of the biggest problems with non slip aggregates is that they are porous. Coatings will wear over time and will expose the non-slip aggregates. When they are a mineral, they are porous and become impossible to clean. The result is a perpetually dirty floor. Polypropylene is non porous and will not absorb dirt, grease, oils or fats. Floors stay clean.
Mixed With Coating – Polypropylene is mixed in with our coating rather than being broadcast into the surface. The particles are a specific weight that enables them to be suspended in the layers of the polyurea. Over a period of years, as the coating wears new layers are exposed. This means your floor will not become slippery over time.
Adjustable Coefficient of Friction (COF) – We use different sizes depending on the floor and necessary coating thickness. A commercial kitchen may require a 40 grit surface while a residential application may only need 80 grit. We can accommodate depending on the flooring use.
We tested the results over a period of years throughout our home state of Colorado on many flooring types and climates.  Each floor is different. We apply coatings nationwide with custom non-slip applications.
What's New
Latest Blog Posts